ActiveCampaign is an email marketing and automation platform that enables companies to automate their email marketing campaigns and sales process.
With over 500 pre-built automation templates, you are able to combine ActiveCampaign's powerful segmentation and personalization with an easy-to-use interface to increase customer engagement.
ActiveCampaign provides a comprehensive set of reports and metrics for any agency or brand that is looking to measure the performance of its email campaigns. Data from ActiveCampaign can be visualized through Oviond's reports and dashboards.
Connecting ActiveCampaign On Oviond
ActiveCampaign connects to Oviond using your ActiveCampaign API key and API URL. The authentication only needs to be done once per ActiveCampaign account.
We have a comprehensive help center article that will answer all questions about the authentication, permissions, and limitations of ActiveCampaign.
Data Available On Oviond For ActiveCampaign Widgets
ActiveCampaign integration has a range of data views and measures that are available when creating a widget on Oviond. You can view all the measures and data views once you have successfully connected your ActiveCampaign account to your client project.
Top data views available on Oviond for ActiveCampaign:
Campaigns
Automations
Deals
Tags
Contacts
Active Contacts
e-Commerce Customers
Top metrics available on Oviond for ActiveCampaign:
All Opens – The total number of emails that were opened.
Unique opens – The total number of contacts who opened the email for the first time.
Hard Bounces – The total number of emails that bounced due to a permanent failure or rejection.
Total Replies – The total number of replies to emails.
Sent – The total number of emails that were sent.
Open Rate – The percentage of your subscribers that open your emails.
Click Rate – The percentage of people who click on an email link after receiving an email campaign. –Unsubscribe Rate – The number of contacts who opted out of your emails by pressing the unsubscribe link.
Feel free to let us know if you need any metrics added to ActiveCampaign on Oviond and we would be happy to look into adding these in for you.
Using ActiveCampaign In Dashboards And Reports
ActiveCampaign metrics on Oviond can be used across reports and dashboards. You can add ActiveCampaign metrics using our completely intuitive query builder, which was designed to pull data exactly how it is displayed on the ActiveCampaign platform or you can use some of our pre-build ActiveCampaign queries. You are also able to create your own ActiveCampaign queries to use in projects across your Oviond account.
Templates & Sections For ActiveCampaign On Oviond
Oviond offers a basic dashboard and report template for ActiveCampaign. You are, however, able to create your own custom template which can be used across all your clients on Oviond that require ActiveCampaign data in their dashboard or reporting project. Learn more about saving projects as templates here.
If you would like to combine ActiveCampaign data with other integrations in your dashboard or report, you can simply drag some of our ActiveCampaign Sections into your existing templates. Learn more about adding a section to a project here.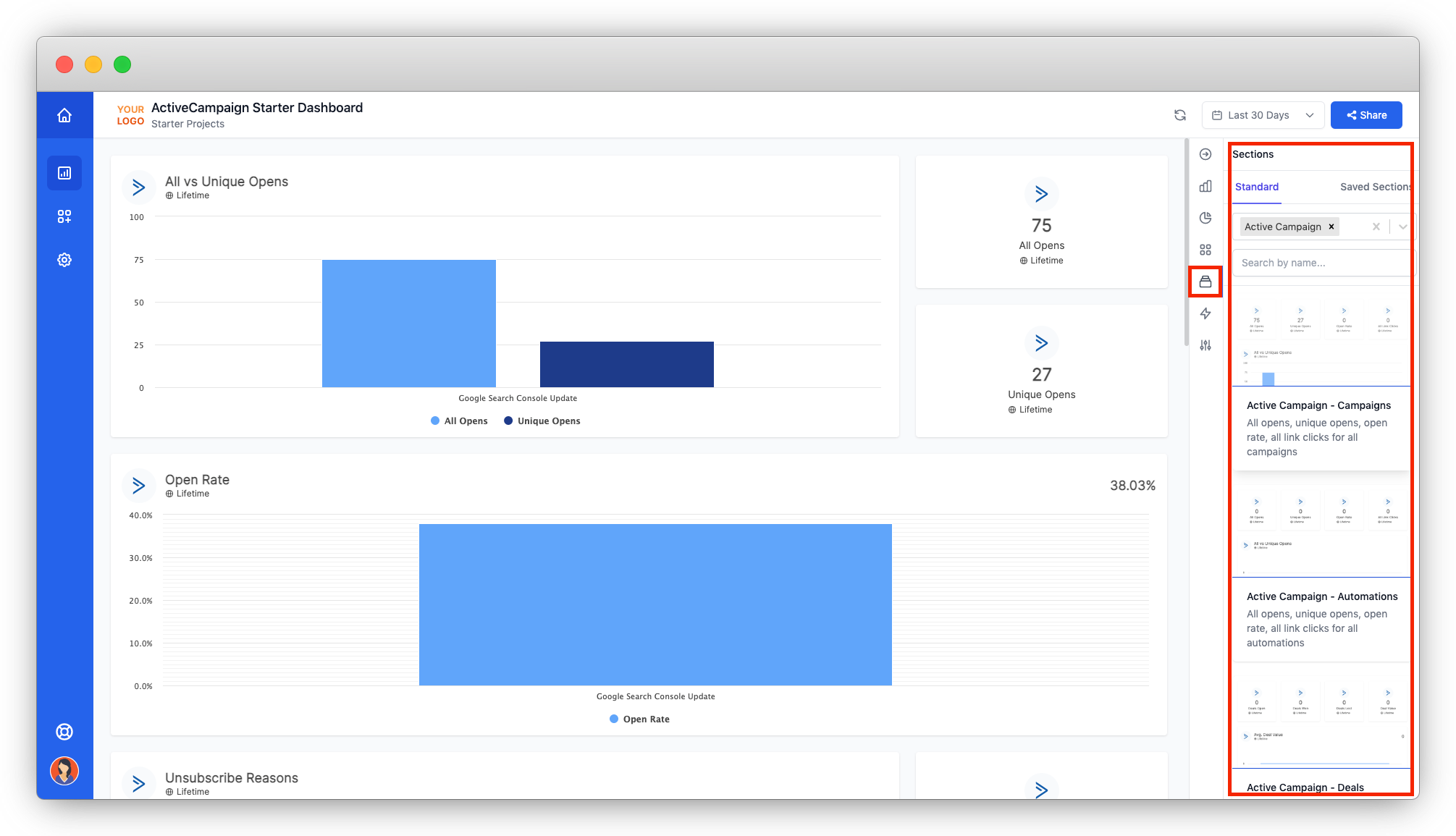 Ready to get started with ActiveCampaign on Oviond?
If you still have some questions about ActiveCampaign, please reach out to our support team.