Integrations
Introducing Mailchimp to Oviond
Mailchimp is a marketing platform that can be used to promote your business across email, social, landing pages, postcards, and more. Take a look at this blog to see how Mailchimp works on Oviond.
Understanding What Mailchimp is?
Mailchimp is an all-in-one integrated marketing platform that specializes in email marketing for small businesses. It offers all the marketing and e-commerce tools small businesses need to launch, build and grow their business.
Mailchimp on Oviond provides us with data that is collected from the email marketing campaigns that are sent from the platform. You can report on data from account, campaign, audience or automation data level on Oviond and represent this data in dashboards, reports, and funnels.
Using Mailchimp On Oviond
Mailchimp connects to Oviond using your Mailchimp account login details (username and password). You only need to authenticate your Mailchimp account once in order to report on all the campaigns in the account.
We have a comprehensive help center article that will answer all questions around the authentication, permissions, and limitations for Mailchimp.
Data Available On Oviond For Mailchimp Widgets
The Mailchimp integration has a range of data views and metrics which are available when creating a widget on Oviond. You can view all the data views and metrics on your Oviond account once you have successfully connected your Mailchimp account to your client project.
Data views available on Oviond for Mailchimp:
Account
Campaign
Audience
Automations
Metrics available on Oviond for Mailchimp:
All Opens - The number of contacts who have opened an email
Total Revenue - The total amount of revenue earned from your campaign
All Spam Complaints - The number of emails that have been marked as spam or junk mail
All Bounces - The number of emails that could not be delivered to an email address.
Open Rates - The percentage of successfully delivered campaigns that registered opens
Subscribed Contacts - The number of contacts who have opted to receive your email campaigns
All Unsubscribes - The number of recipients who opted out of your emails using the unsubscribe link in the campaign
Total Clicks - The total number of times tracked links were clicked by recipients. This count includes multiple clicks from individual recipients
Feel free to let us know if you need any metrics or data views added for Mailchimp on Oviond and we would be happy to look into adding these in for you.
Using Mailchimp In Dashboards, Reports, and Funnels
Mailchimp widgets can be created in dashboards, reports, and funnels on Oviond and are available in our standard templates. The metrics offered by Mailchimp are all based around email marketing campaigns and automations and will reflect the lifetime data of the account.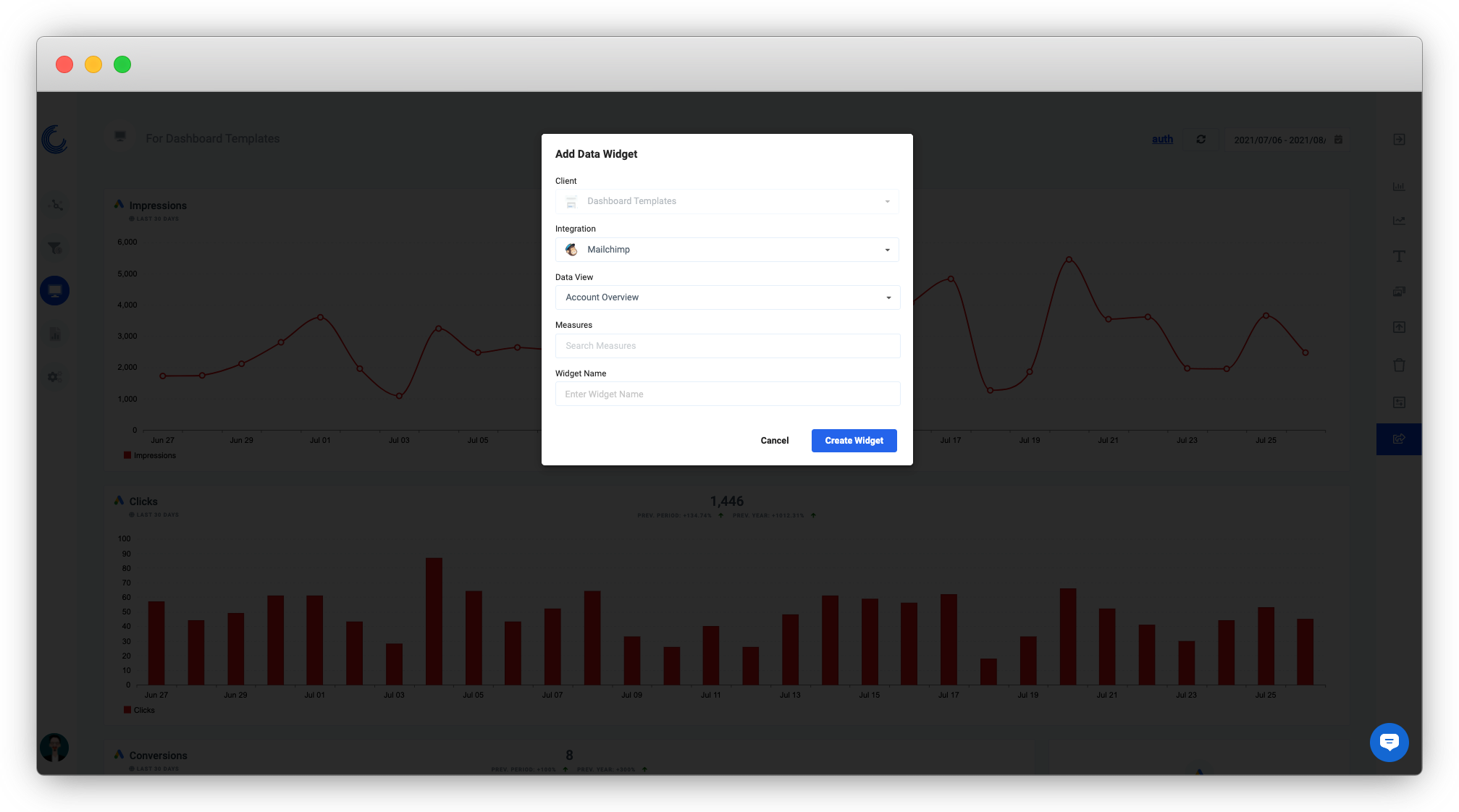 Mailchimp widgets can be added to dashboards, reports, and funnels as single data widgets for now and are not yet available in our blended data widget feature. The data provided by Mailchimp is an essential part of digital marketing reports for clients who are running email campaigns and automations.
Templates Available For Mailchimp On Oviond
We have created a few templates that include Mailchimp data. You can visit the Mailchimp integration page on our website for more information about these templates.
The templates can be accessed from inside your Oviond account, when you click on ''Add Dashboard" or "Add Report" in a client project. We have standard templates, which only include Mailchimp widgets. We also have blended templates, which include Mailchimp widgets as well as widgets from other integrations.
Ready to create your own Mailchimp dashboards and reports now? If you still have some questions about Mailchimp, please reach out to support.
Lauren de Vaal
Lauren de Vaal
As head of the Customer Success Team at Oviond, Lauren is passionate about continuous product improvement, which not only spans the product but is carried across to her team. Lauren is passionate about the digital marketing environment and has a flair for leadership which is evident in the way in which she manages her team. Lauren has used her 6 years of digital marketing experience to hone her skills, learn and embrace new challenges to where she is able and willing to meet all challenges head on. Lauren embraces her passion across all aspects of her life, both professionally and personally and is a devoted wife and mother to a beautiful daughter. Lauren loves spending time with her family and is a big lover of outdoor vacations in the bush.
Are you drowning
in digital marketing data?
Take Oviond, the industry leader in cross channel digital marketing monitoring and reporting software for a free 15 day trial starting today.
Start your free 15 day trial
No credit card necessary.