Search engine optimization (SEO) has always been a buzzword in digital marketing. Many digital marketing agencies and brands are understanding that in order to remain competitive in search engines, investing in SEO is the best way to increase your website ranking and organic traffic.
But, SEO is not necessarily an easy concept to understand as search engines are constantly updating their ranking factors. With this in mind, it's important to stay up to date with your SEO skills, and what better way to do this than by taking an SEO course.
If you are brand new to SEO or an advertiser that is just looking to brush up on your skills, selecting the right SEO course or certification is the best way to further understand how to create better content for your website. Even though there is a lot of free information online that covers the basic theories and best practices of SEO, taking a course is a great way to further test your knowledge and skills.

Graphic provided by Crazy Egg
What Is An SEO Certification?
Certifications are formal documents provided by educational institutions and brands that give accreditation to a specific set of skills. So, in short, and an SEO certification shows that you have the necessary skills and knowledge to work with search engine optimization.
To get a certification an individual needs to attend classes. Each class will be followed by an assessment to test your skills and knowledge and only after passing the assessments, will you receive your certificate.
There are various courses and certifications available online, so it can be hard to know which one is the best fit for you! However, it's important to know that Google does not offer SEO certification courses. Steer away from programs that state you will become a Google certified SEO expert, as Google has announced, for obvious reasons, they will not provide SEO courses.
Should You Invest In An SEO Course?
Investing in SEO certifications and courses is not a requirement, however, it's a great way to boost your credibility in this specific skillset.
More established digital marketing agencies and brands might decide to rely on their previous results and experience to boost their credibility, while, newer digital marketers might choose to use their SEO certifications to help them boost their careers.
This does not mean that if you are more experienced in SEO that you do not need to take a course. Let's take a look at a few of the benefits of investing in an SEO course and certification:
Helps Save Time: Investing in an SEO course helps you save more time. Even though there is a lot of information online, taking an SEO course will ensure you don't waste your time looking for answers on Google.
Checklists: Most SEO courses provide checklists to help you follow best practices when optimizing your website.
References: SEO courses prove to be great references. The truth is that there are so many rules and best practices with SEO, it can be difficult to remember to execute them all. Having an SEO course at your disposal will help you quickly cross-reference any rules and help answer any doubts you may have.
Inspiration: It comes as no surprise that SEO takes time and this can cause you to lose your motivation. Reading the success stories from SEO courses is a great way to keep yourself motivated on the end result!
High ROI: An SEO course should not be seen as a cost, but rather as an investment. SEO is the best way for brands to make money through a higher ranking on search engines and organic traffic. So investing in SEO courses is a great way to increase return on investment (ROI).
Learn From Experts: SEO courses are designed by individuals that are considered experts in this field. Following their tips and guidelines is the best way to aim for faster results.
SEO Certifications And Courses For 2022
Let's take a look at some of the best SEO certifications and courses that you can invest in for 2022:
1. Hubspot SEO Certification Course
The Hubspot SEO Certification Course is a free course that helps marketers, content creators, and anyone looking to learn more about SEO, grasp the fundamental impact of SEO on a business.
This course consists of 6 lessons, 24 videos, and 5 quizzes to help you solidify your knowledge. The introductory course highlights how to improve your website SEO, how to build backlinks to increase your credibility with search engines, and how to use keyword research to improve your search performance.
Combining this course with other courses in the Hubspot Academy is a great way to understand how inbound and content marketing can be used together to optimize your business performance.
2. Coursera Search Engine Optimization Specialization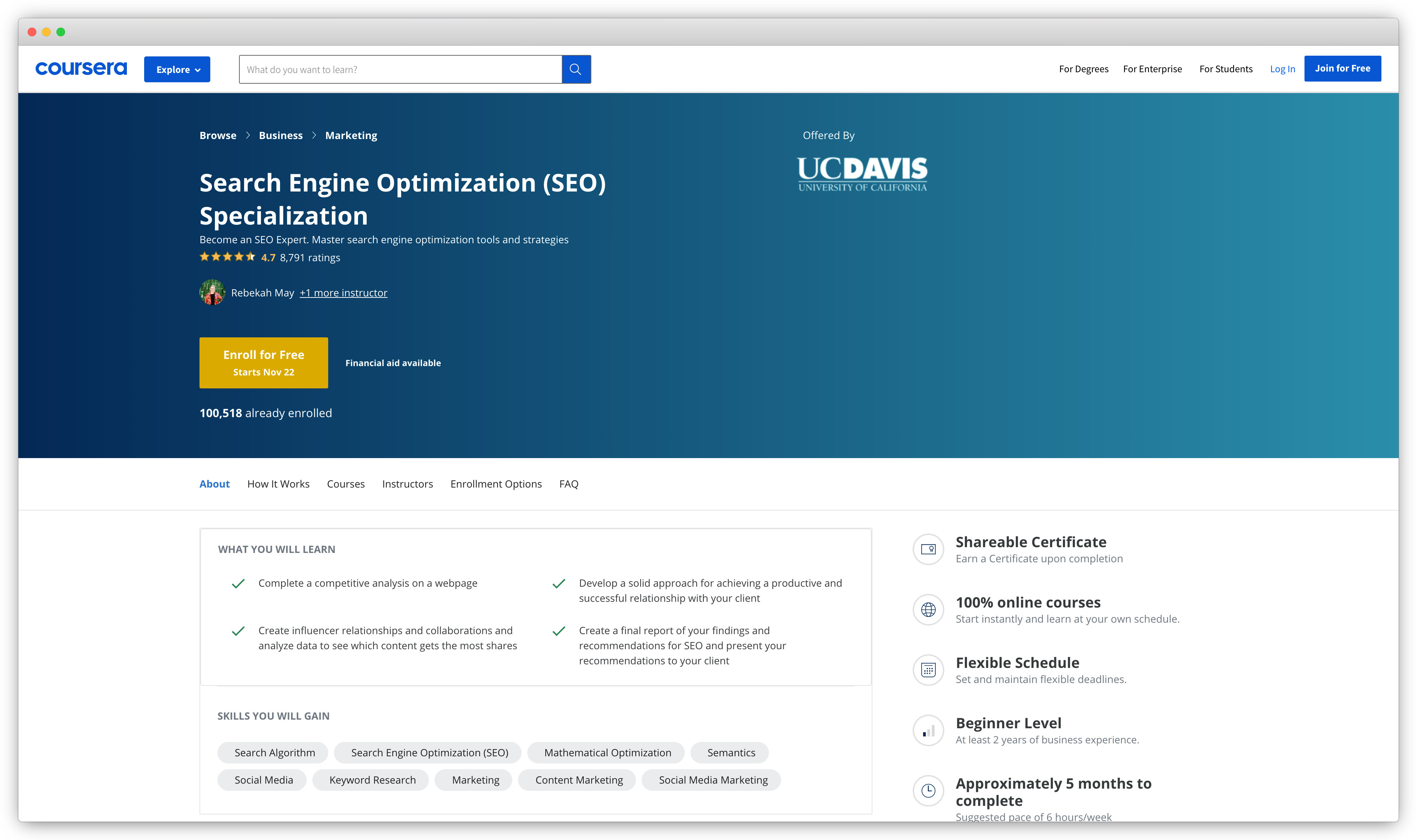 The search engine optimization specialization is a free course offered by the University Of California that looks into how you can optimize your website content to increase ranking on search engines.
This is known to be the most comprehensive course available as it consists of 5 different courses that help you further develop your skills on search algorithms, SEO, mathematical optimization, social media, keyword research, marketing, social media marketing, content marketing, and semantics.
Coursera focuses on assessments that help you apply your newly learned skills to real-world SEO consulting tasks, helping you better your digital marketing career or content development.
3. Moz Free SEO Training Course
Moz's free SEO Training Course that is available on Udemy is the perfect course for any digital marketing agency or brand that is looking to learn and understand the basic concepts of SEO.
The course consists of 18 individual lectures that run over everything from strategy development to SEO reporting. In addition to the free course, Moz also offers a paid option which includes a certification of completion and instructor Q&A to give you that one-on-one time with an expert in the field!
4. Semrush SEO Fundamentals
The Semrush SEO Fundamentals course is the perfect course to help you brush up on your SEO skills. The course includes 8 models, led by the industry expert Greg Gifford, that covers everything you need to know from search engine basics to local SEO.
The course includes reading material and quizzes to help you build your knowledge on various aspects of SEO. Once you have finalized the course, Semrush also encourages you to take the SEO fundamentals exam to earn your certificate as an SEO master!
Start Your SEO Courses Today….
There is nothing stopping you from starting your first SEO course! If you are either looking to brush up on your SEO knowledge or are a newbie looking for a credible certification, the courses mentioned above are a great way to boost your SEO skills, and they are completely free!
Investing in SEO certification and courses are a great way to keep up with a fast-paced environment and can help you increase your organic traffic, boost your ranking on search engines, and more importantly, help you improve your ROI.
Don't forget to check out our blog if you are interested in learning more about SEO and digital marketing!