There is no denying that SEO is crucial for any business looking to increase organic traffic to its website. Increasing organic traffic is not an easy task as is not only focused on more long-term efforts but it can also be very hard to stay ahead of the competition.
When companies are establishing their strategy their main focus should be on the competition. They need to know what is working online and what is not. So naturally, businesses will look for their competitors' approach to aspects such as content, keywords used, the type of traffic they seem to be attracting, and domains they are linked to.
There are various tools available online to help monitor, track and report on the performance of your website compared to your competitors. Not only do these tools provide you with the insights you need to get on top of your SEO strategy but they can also give you suggestions on how to improve your current efforts, which honestly makes the process a whole lot easier!
We here at Oviond have partnered with one of these great tools to give our users all the best of SEO reporting. Introducing… SERanking!
What is SERanking?
If you have not come across it before, now is your chance to learn all you need to know about the platform before giving it a try. SERanking is an all-in-one SEO software that offers marketers and SEO agencies the opportunity to monitor and measure results across websites. With its multi-functionality of features and tools, not only does a user get all the standard features that should be expected in an SEO, but they also get the ability to monitor changes to their pages' performance and social media management included. All of this comes in their easy-to-use platform where no experience is needed to get started.
How to get started with SERanking:
Once you have created an account with SERanking you will be taken to the main dashboard. The main dashboard is where you will be able to view all your websites as well as monitor all your real-time data.
To start tracking your data, add a new website to your dashboard. The setup process is easy, all you need to do is follow these three steps:
Add the website name, and the website URL you would like to track and specify the search range.
Group appropriate keywords that you would like tracked for the specified website.
Choose the search engine you would like to monitor. You can even specify your search by geographic location.
Now that everything is set up, you can let SERaning get to work to deliver all the data you need to optimize your SEO strategy.
SERanking's Main Tools
Rank Tracking
Rank tracking is an essential aspect of SEO as it gives you enough information to tell you how well your website is performing. SERankings keyword rank tracker will give you a detailed overview of everything you need to know about your website's ranking and the traffic it is receiving.
It will also provide you with information on how your website ranks across Google Maps, Google Advertising, SERP features, YouTube, and even desktop and mobile devices. You can choose to monitor your data daily or set a frequency of how many times you would like a detailed report on your tracked keywords. All your data will be backed up into SERanking's history where you are able to access dates and URL changes at any point in time.
Lastly, with SERanking's rank tracker you will be able to get a detailed overview of your top ten competitors and gain insight into the visibility of their websites.
Competitor Research
Keep friends close and well, you know the rest! Conducting competitor research is crucial to SEO as you always want to make sure to stay ahead of the competition. With SERanking competitor research SEO/PPC tool, you will get all the information you need on your competitors' keywords, traffic, budget, clicks and so much more.
Take it one step further and learn all you need to know about your competitors' strategies by getting an in-depth look at their advertising history. This will allow you to look into their ads (what they look like and what keywords were used) and which of your competitors' sites are targeting similar audiences. Looking at this information should give you a detailed overview of where your competitors have failed to help you prevent making the same mistakes.
Keyword Research
It is always good to understand the keywords used in your industry as it will help you understand your niche. With the SERanking keyword suggestion tool, you can find the best-performing keywords based on your country and your industry. SERanking will give you suggestions based on search volume, keyword ranking, bids, etc.
SERanking can also help you categorize your keywords by first looking into the top 10 search results and grouping your keywords accordingly.
Backlink Explorer
Lastly, a backlink monitoring tool will give you all the information you need on who is backlinked to your domain and who is backlinking to your competitor. This is important because SERanking will help you identify all the "bad" links that need to be removed.
All bad links need to be removed because it helps avoid a penalty from Google (Google Sanction). This will be anything that goes against Google's practices, as stated in its guidelines. You can also automate your data by choosing to receive any changes to your domain. This would include users that have spam linked to your website. Information like this is very useful as it helps you react quickly to protect your brand's reputation.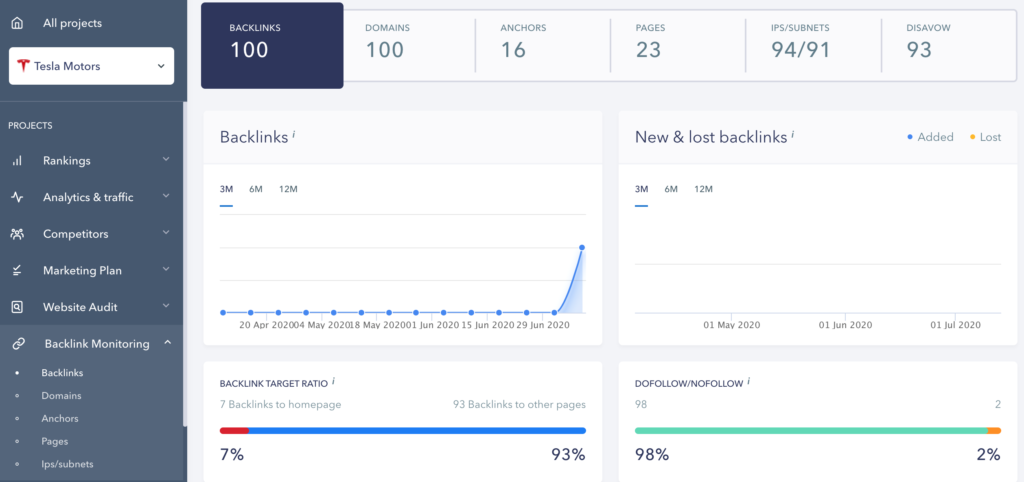 Get started with Oviond today!
Now that you know all you need to know about SEO and our new integrations partner why not give Oviond a try as your new SERanking reporting platform?
Simply connect your SERanking integration to Oviond through an API key and get all your marketing data in one place. We vow to bring our customers the best that SERanking has to offer and to include as much detail as possible in their digital marketing reports.
Start your 15-day free trial on Oviond today.