An SEO tool is a platform that can be used to help optimize a website. The aim of an SEO tool is to provide you with the necessary resources in order to get your website to rank higher on search engines. There are many aspects that influence your rank on search engines so proper analysis of these could be beneficial in getting SEO right for your website.
What can be analyzed using SEO Tools:
Keyword research
Using the correct keywords is an imperative part of putting together a successful SEO strategy. Keyword research will assist you in finding search terms that people would enter into a search engine to find your product/service. Having the correct keywords sending traffic to your website plays a very important role in how well your website will perform organically. Once keyword research has been done using an SEO tool, the keywords will need to be placed strategically into the content on your website in order for it to rank higher on search engines.
Competitor analysis
Knowing how well your website is ranked on search engines compared to your competitors plays a significant role in SEO. Competitor analysis is the process that will help you determine the strengths and weaknesses of your competitors so that you can ensure your website qualifies to rank higher than them on Google. The main reasons competitors analysis is done is to:
help you build your SEO strategy;
study the market;
provide you with insight into competitor strategies; and
study trends within the industry
Rankings
How high your website ranks on Google is one of the main reasons SEO is performed in the first place. There are many SEO tools that can tell you where your website currently ranks on search engines, as well as provide you with the resource to get your website ranked higher.
Keyword research and backlinking are 2 features offered by many SEO tools that can assist in getting a good website ranking.
Backlinks
A strong backlinking strategy is important as high-quality backlinks can help increase the position of a website on search engines. Put simply, a backlink is a link from one website to another. Most SEO tools offer backlink checks on specified websites and also provides you with tools to assist you in building a strong backlinking strategy.
A few ways to earn backlinks:
Comments on relevant blogs
Interlinks on your blog posts
Write competitive content
Benefits of using an SEO Tool:
Now that we know what can be analyzed by using SEO tools, let's look into what the benefits are of using them:
Help you speed up the SEO process – A lot of time is spent on researching an SEO strategy so having an SEO tool will assist in automating the process and giving you results much quicker.
Help you to get more ideas – Using an SEO tool can really help you to get inspiration when putting together your SEO strategy.
Assist you in building quality content for your website – Quality content needs to be built off the keyword research that you do for your website. SEO tools offer many features to assist you in building content correctly for your website.
Help you gain insights– This is important because it will give you an idea of how your competitors are doing, as well as give you direction with your own content.
A few SEO tools to try
Free digital analytics tool. Google Analytics offers you everything you need to evaluate the performance of your website, including organic and paid traffic.
Google Search Console can be used to see how many pages on your website are indexed, find out what keywords your website is ranked for, and see the average position of keywords on your website.
SEO tool by Neil Patel that will give you keyword suggestions, daily keyword ranking, and site audits.
This is a great tool to use for backlinks and SEO site audits. This is a paid SEO tool but offers many features included in their monthly fees.
Serpstat offers everything you need in order to track your competitors and improve your content. This is a paid SEO tool but they do offer a few features for free.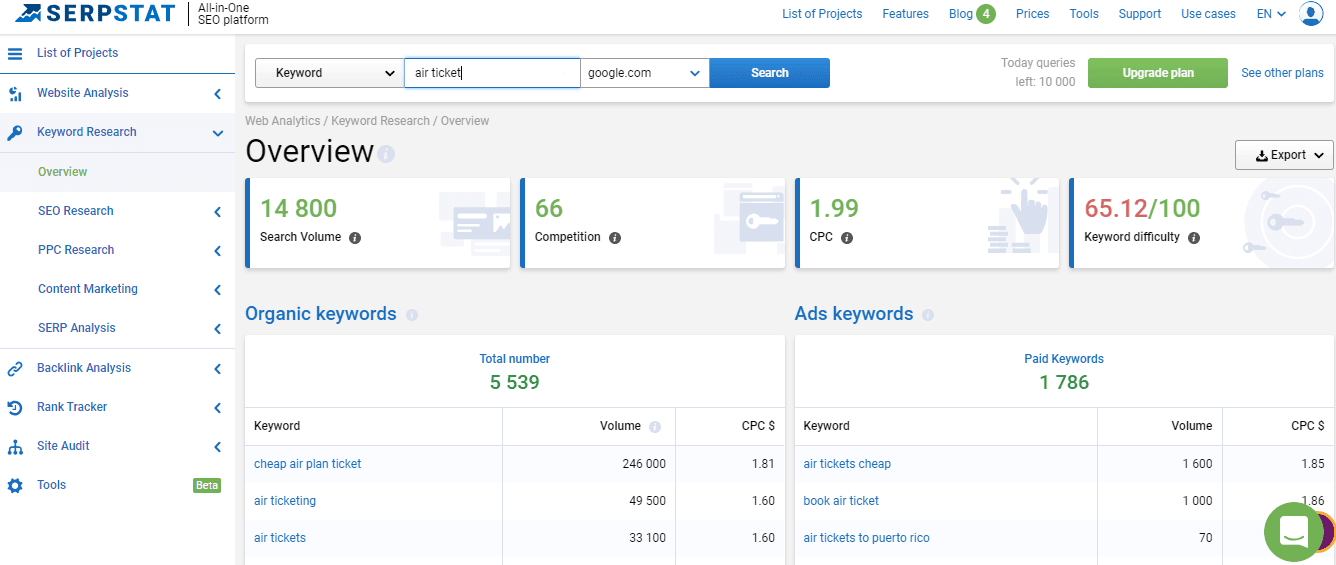 This tool is great for finding the right keywords as well as tracking your rankings. They offer a 10-day free trial.
Screaming Frog SP Spider is a website crawler that can be used to improve onsite SEO. This tool needs to be downloaded onto your computer. They offer a free and paid version.
Conclusion
There are many SEO tools out there that can be used when putting together your SEO strategy or even to improve it as time goes by. Each SEO tool offers unique features so it is a good idea to spend some time researching which one would work best for your business. Read more about SEO in our Is SEO A Good Investment For Your Business?