Google Ads is Google's online advertising program. It allows users to create online ads to reach people that are searching for a certain product or service.
Google Ads is used to promote businesses by helping to sell products or services online, create brand awareness and increase the traffic sent to a website. The data collected on Google Ads can be seen at Account, Campaign, Ad Group, or Ad level, all of which can be reported on in dashboards and reports Oviond.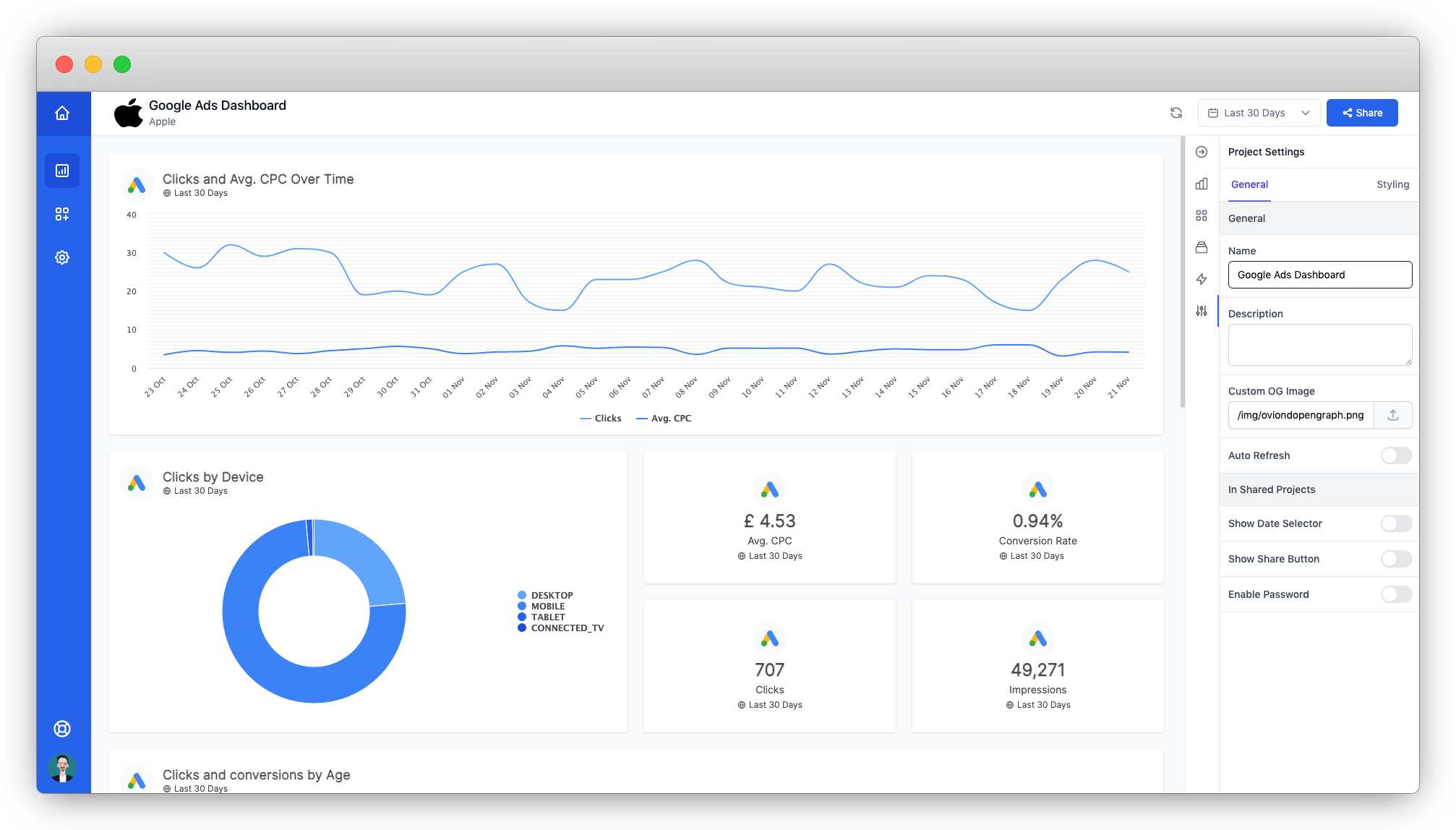 Connecting Google Ads On Oviond
Google Ads connects to Oviond using your Google account login details (email address and password). This authentication only needs to be done once per Google account and will give access to all the accounts associated with the Google account. Oviond only allows Google Ads Manager (MCC) accounts to be connected.
We have a comprehensive help center article that will answer all questions around the authentication, permissions, and limitations for Google Ads.
Data Available On Oviond For Google Ads Widgets
The Google Ads integration has a range of data views, metrics, filters, and segments that are available when creating a widget on Oviond. You can view all the data views, metrics, filters, and segments on your Oviond account once you have successfully connected your Google Ads account to your client project. There are so many metrics available in Google Ads and so many ways to report on them but it is important to understand what information needs to go into a PPC report for clients.
Top metrics available on Oviond for Google Ads:
Cost – Total amount of money spent on ads
Clicks – The number of clicks on your ads
Conversion Value – The total value of conversions per ad interaction
Average CPC – The average amount that you've been charged for a click on your ad
CTR – The ratio showing how often people who see your ad end up clicking it
Conversion Rate – The average number of conversions per ad interaction, shown as a percentage
Impressions – The number of times your ad is shown on a search result page or other sites on the Google Network
Conversions – The number of actions counted when someone interacts with your ad or free product listing and then takes an action that you've defined as valuable to your business
Top data views available on Oviond for Google Ads:
Account
Campaign
Ad Group
Ad
Keywords
Demographics
Top segments available on Oviond for Google Ads:
Date
Device
Network (with or without Search Partners)
Conversion Actions
Top filters available on Oviond for Google Ads:
All Campaigns
Search
Display
Shopping
Video
App
Smart
Feel free to let us know if you need any metrics or dimensions added to Google Ads on Oviond and we would be happy to look into adding these in for you.
Using Google Ads In Dashboards And Reports
Google Ads widgets can be created in dashboards and reports on Oviond. The widget builder for Google Ads will show segments and filters for campaigns based on the data view chosen.
Google Ads widgets can be added to dashboards and reports as single data widgets or blended data widgets. Any changes made to the campaigns, ad groups, and ads on the Google Ads platform will reflect on Oviond when the dashboard or report is refreshed.
Templates Available For Google Ads On Oviond
We have a number of pre-made templates that include Google Ads data in the Oviond template library. You can visit the Google Ads integration page on our website to view a snapshot of these templates and to read more about them.
If you would like to combine Google Ads data with other integrations in your dashboard or report, you can simply drag some of our Google Ads Sections into your existing templates. Learn more about adding a section to a project here.
Ready to create your own Google Ads dashboards and reports now? If you still have some questions about Google Ads, please reach out to support.